Quanika Enterprise provides the most powerful, flexible, and easy to manage security solutions for small to large scale and multi-site applications, harnessing best-in-class software and world-leading video, access, and audio technology from Axis Communications and Milestone Systems.
Quanika is transforming enterprises globally, opening pathways that orchestrate business performance and deliver on the full promise of integration, removing silos and streamlining digital and physical workspace efficiency.
Seamless integration, via AXIS Camera Station, with an unlimited number of AXIS A1001 and A1601 door controllers
Supports an unlimited number of Axis cameras
Intruder, fire, intercom and ID badging integration
Single servers with unlimited workstations
Flexibility to integrate with other third-party systems, Microsoft Active Directory, software and databases
Time and Attendance Reporting
Integration with Quanika VisitorPoint
Integration with ASSA ABLOY Wireless Locks
Quanika Enterprise
Tomorrow's Security Solution Today
Quanika Enterprise combines access control, video surveillance and safety and visitor management in one user interface to deliver powerful off-the-shelf integrated security solutions for businesses of all sizes. Flexible and scalable as your business expands, you only pay for the features you need.
Quanika Enterprise has been specially developed to integrate seamlessly with best-in-class Axis Communications hardware. Quanika and Axis give you complete visibility and control, using big data intelligence to provide comprehensive situational awareness from one easy-to-use platform which makes end-to-end security and safety management simple and efficient.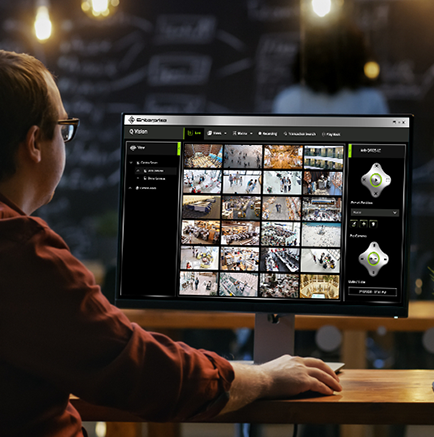 Quanika Enterprise enables off-the-shelf integration, via AXIS Camera Station VMS, with the extensive line up of Axis hardware, including domes, bullets, PTZs, thermals, body cams and audio devices. You can choose the devices your site needs for the most effective surveillance operation and business intelligence gathering and manage them all from Quanika's easy-to-use platform.
Axis Network Door Controllers
Scalable and future-proof, AXIS A1001 and A1601 Network Door Controllers are at the heart of every access control solution.
Axis Hardware Network I/O relay
Extend the functionally of any Axis product with Axis network I/O relay modules.
Axis Card Readers
Axis card readers are designed to perfectly match the A1001 Network Door Controller.
Axis Door Station Hardware
Quanika leverages the security and convenience of Axis Network Door Stations that combine video, two-way communication, and remote entry control from a single device.
Axis Camera Station & Cameras:
Axis offers a wide portfolio of IP-based products and solutions for security and video surveillance.
Axis Network Audio:
Axis network audio systems enable high-quality audio for a wide range of applications.
Browse our collection of resources to understand the full power of Quanika Enterprise and how it will improve your security and safety management.
Download the datasheet for the full technical specifications of Quanika Enterprise.
Explore the latest videos to learn how Quanika software solutions with Axis Communications' technology is transforming security, safety, and core operations in range of applications.